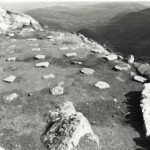 If The Quadrilateral Temples were really Sanctuaries, then: "Chapeau Bas" !!!…
We're witnessing a unique phenomenon in the History of Religions and Sacred Architecture that will shake the foundations of Anthropology:
"ACellar, HyperStyl, HipaEthral – Temple" … Damn it!… In "slang" sounds even more fabulous: RoofLess ApadanaLike Sanctuary.
… … … … … … … … … … … … … … … … … … … … … … … … … … … … … … … … … … … … … … … … … … …
A sanctuary is essentially a place of worship. A place of worship has a focal point where the mystery occurs.
A sanctuary complies with a sacred geometry which defines gradually… The Sacred Interior, from The Profane Exterior.
A sanctuary is the manifestation of a Culture and can be framed into a Style. The style involves Rigor and Rules.
None of this applies in the case of "Quadrilateral Temples" around the Dacian Fortresses.
They are platforms covered with rows of stone plinths, with or without drums over… as preserved today.
The drums (or plinths) if there are remains of columns, we have a big problem: the columns do not support anything or delimit something. There is no "Cella" or "Nave" or worship room … or any similar sacred space. We haven't found there any  fragments of stone belonging to a superstructure (antablature) of any kind (read it: "style").
There are no similarities between more than two  "sanctuaries" in the same "cultural space" … namely Dacia. The number of plinths is different  (15, 40, 28, 60 …), the number of rows of plinths (3.4), the plinth's shape (round, square, irregular) … the perimeter size, the location (intramuros, extramuros, at a distance) in relation with elements of civil and military architecture… While religious phenomena involves … … Ritual and Canon clearly expressed in architecture.
There are no incisions or protrusions in the Plinths or drums to make fastening possible – among themselves or with a wooden column above… in a vertical plan. Plinths and drums were just pedestals (simple: drum – plinth or compound: drums – plinths); The quadrilateral "Temples" weren't temples at all, not even Sanctuaries!
Logically, in this context, if it was a wooden superstructure, it was anchored to a wooden reticular frame. Further, a consequence would be a significant amount of nails present in the "archaeological inventory"… (true).
The purpose of those plinths, if there is a superstructure covering them, wasn't about Aesthetics or Religion… or Astronomy, or Time … or… EnerGeticS …
Their purpose was a practical one: I-st… To support the considerable total weight of a superstructure and II-nd … To distance it from the ground.
Therefore, It's a Hall -Type location (… horreum – like… or even a horreum), in which they stored the perishable and vulnerable resources, related or not to the Religious Areas – so obvious, regarding The Round Sanctuaries of dacians.
"Storage" doesn't excludes "dwelling", "consumption" or some activities of "preparation": grinding – cereals or cutting – meat … which would be reflected again in the inventory of archaeological excavation. I mean: distinctive pottery, grinders, special spikes. These may be recovered, if any, from other areas than Sarmizegetusa – full of "mysteries", reinforced concrete, poachers and researchers.
Where these "Quadrilateral Temples" occur in the absence of actual – "Henge Type" ones… we should consider (beyond the "Raison Transcendentale") … an obvious "Raison Gourmande" about the religion of Dacians. At this point,  I'm tempted to say: Watch carefully the bones in the waste dumps of large Dacian settlements …
But … … I'll better stop here.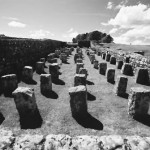 Enough one "arrogance" for a bunch of plinths!
Success! .. and pay attention to the calendar method… Dacian Calendar… cosmic method…. of course!
PS … No one from "Abroad" was "amazed" about the "originality" of "Dacian quadrilateral Temples" … We don't need not worry about it!.. It's Just… none took us seriously until now… nor they would.
Vlad Totoianu