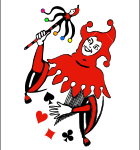 Let's Play! ..
Here:
In The Beginning… We Quarter The Ace:
Clubs, Diamonds, Hearts, Spades.
… … …
The Jokers see how The King looks on The Table… and Beyond … He sees The Qeen.
Talks to Her,.. and Falls Asleep.
Then:.. Left-Two-Three-Four… TEN … and It's Over/Behold.
Over/Behold … Jack… Appears.
IT IS!
The Jack becomes A King … and …
The King … wakes up A JoKrator.
… … …
We're already Three… How do We call this Game?
Simply:.. Another Game!
Let's Play…
Vlad Totoianu